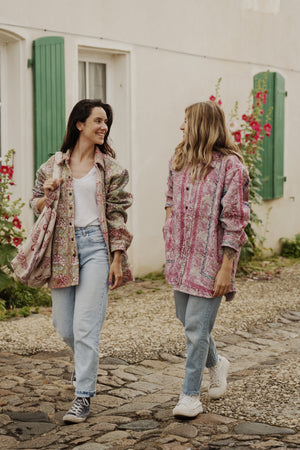 Curiosity Lab is a Timeless and Bohemian brand.
Each of our pieces tells a story, that of the craftsman.
The story of the wood block sculptor, of the artist who applies freehand wood stamps on the fabrics to print it, of women with fairy fingers embroidering their saris to give them a second life...
Check @Curiosity.lab on Instagram
Indian craft shops in Paris & La Baule-Escoublac
Curiosity lab invites you to come and discover its Indian craft shops offering a wide and varied range of products, combining Indian textile know-how and European modernity. The designer wants you to discover this country, India, which she loves so much and where she lived for 15 years, through a selection of ready-to-wear, accessories, jewelry and decorative and playful objects: a real Indian craft shop in Paris and La Baule .
A collection of chic and Bohemian Indian clothing
We approach Indian clothing from a whole new point of view: the colors are tangy and fresh, the fabrics are soft, the shapes are modern, contemporary and above all comfortable. Our pieces are versatile like our long Mandu kimono to wear as an Indian-inspired dress , over a jacket or to stay at home.
One of the main know-how used for our line of Indian clothing is the block print, an ancestral technique of manual printing carried out with the block of wood and which uses natural pigments such as Indigo. Curiosity lab therefore offers you a complete ready-to-wear collection for women as well as a form of Indian shirt for men that combines class and the softness of cotton.
A collection of Indian accessories and jewelry
Our collection of accessories combines practicality by offering shapes such as that of our Indian shoulder bag and precious Indian know-how inscribed in the DNA of our brand: Kantha, 100% recycled cotton fabrics, re-embroidered by hand. To complete its range of accessories, Curiosity lab offers a selection of Indian jewelry in semi-precious stones renowned for their varied colors.
A universe of Indian decoration
What better way to bring color to your interior, to make it tell a story, than a touch of Indian decoration ? To dress up your home, the designer has added a collection of 100% cotton household linen : tablecloths, cushion covers and also a superb Indian duvet cover that will enchant your nights. Our shops are real Ali Baba's caves with a rich and colorful universe where you will find plenty of gift ideas and Indian ethnic decorative objects for you and your loved ones.